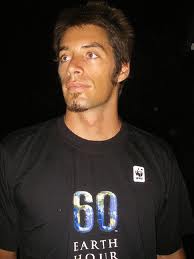 Starting 15 November, surfer Dave Rastavich "Rasta" will paddle on an epic journey from Cape Egmont to Piha arriving here on 1 December.
Dave is an internationally acclaimed surfer and environmentalist, founder of Surfers for Crustaceans, who will paddle the whole journey with guest paddlers joining him along the way to do specific sections.
Dave will call in at local coastal communities to talk to them about seabed mining and their fears for what it will do to the coast they love.
Read more here http://auckland.scoop.co.nz/2012/10/environmental-groups-commence-epic-journey/
Dave was born in New Zealand, but moved to the Gold Coast when 6. Here's a bio of Dave from the Billabong site http://www.billabong.com/us/team-rider/surf/17/rasta