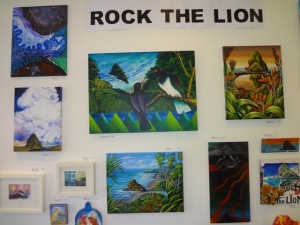 A huge variety of interpretations of Lion Rock can be seen on the walls of the West Coast Gallery with the opening on Saturday of the Rock the Lion exhibition. All sizes, all media, from straight representational to highly symbolic and imaginative.
If you've hankered for an image of Lion Rock for your walls, take youself down to the Gallery to see what takes your fancy.
A hit of the show is the Piha Preschool Fundraiser. The talented children aged under two attending the Preschool, worked over 13 weeks to make their image, called "Preschool Days", using sand and rock from the beach. If you look closely, there are also some tiny lions worked into the rock.
The eels on the Piha Stream in the work were taken from rubbings of the eels on the Tuna Bridge.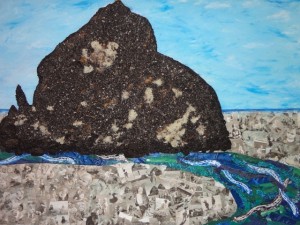 The children also used photographs of themselves as a collage on the artwork.
This work is up for a silent auction. You can place your bid and at the end of the exhibition, the highest silent bid will get to take home this gorgeous work, and the proceeds will go to the Piha Preschool.
Then, everyone's a winner.