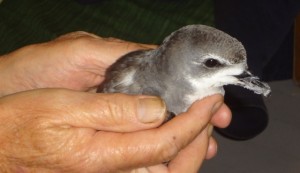 This gorgeous petrel was a late night uninvited guest last night. Around 1 am, hearing a noise at the backdoor, we opened up and a bird flew in, as large as life.
He was a grey-faced petrel – pterodroma macroptera gouddi – and he is rarely found on the mainland, especially the West Coast of Auckland.
This one was not in a hurry to leave and alarmed us by flying back into a closed window when we attempted to send him on his way. We pulled all the blinds and turned off outside lights and launched him further away from the house, and after swooping back up to the backyard, he disappeared into the night, we hope safely.
This discovery confirmed the source of strange seabird calls we had heard at night recently.
Grey-faced petrels are found mainly on some islands in the Hauraki Gulf, with some having come to the mainland at Tawharanui. A few years ago, some turned up nesting an one or two headlands along the West Coast and they are known at Te Waha Point at North Piha where locals undertake up pest control to keep pests away. This is one of the reasons dogs are not allowed at the end of North Piha, nor on Laird Thomson Track.
Petrels make nests in burrows in the ground so are very vulnerable to animals, including pets, and human feet crushing their nests. They only lay one egg at a time.
The petrel feeds in the sea at night, which would explain it being out and about at 1 am in the morning. It has large wings enabling it to soar over the ocean, but which can make it hard for it to take off from the ground (see photo below). When it is seen, it is usually seen singly.
So this is a precious little visitor. Please keep your dogs and cats under control, and put bells on your cats.