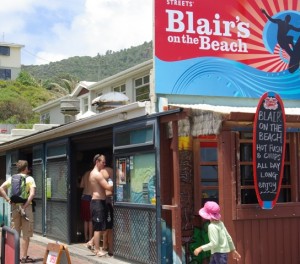 A long-standing beachfront institution, you'll find Blair's next to the surfclub. The first takeaway here was started by Johnnie Oxspring in the 1950s.
Blair's serves fish and chips, hamburgers, toasted sammies, Nice iceblocks, ice creams, milkshakes and drinks, and is open long hours during summer.
Close to the beach when you're hungry or thirsty.
Summer hours 10 am – 8.30 pm-ish
General Manager: Adrian Doggett
Contact Phone: 09 8128 309
Join Blairs Facebook page at http://www.facebook.com/blairsonthebeach