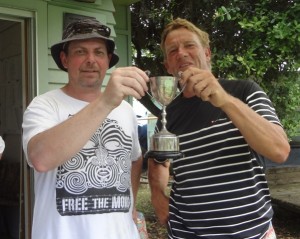 The Tennis Club annual champs are in full swing with the Combines, Women's and Men's Doubles played.
Winners of the Combines were Chris Dearsley and Bev Holt. Winners of the Men's Doubles were Hamish Coney and Chris Dearsley (seen here with their cup).
Women's winners were Gayle Barclay and Judy.
The AGM was held on Friday 27th followed by the annual BBQ. Ross stepped down after 17 years as President and was acknowledged with much thanks and a gift. The new President is Peter Hosking, Vice-President Denis Black, Secretary Marie Trubuhovich, Treasurer Bev Holt, Club Captain Brockie King, Women's Club Captain Gayle Barclay, and there is a full committee.