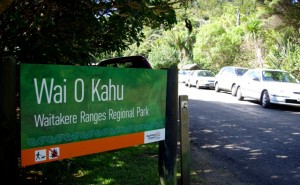 When historian  Graeme Murdoch talked to the Piha community about Maori names of places in Piha, he mentioned that the original name for the Piha Stream was Wai o Kahu. The name related to the wife of the senior tohunga on the Tainui canoe, Kahukeke. When the canoe arrived in New Zealand, its occupants explored the Waitakere area, and when Kahukeke looked down on Piha from the top of the hill, she said she had never seen a prettier place and she wanted to stay there for a while.
That is how the stream got its name – Wai o Kahu – the waters loved by Kahukeke.
In 2010, the then Auckland Regional Council voted to restore the name, with the blessing of the local iwi, Te Kawerau a Maki, who had once resided on the land that became the Maori Reserve through which the stream runs.
So, here's the new sign and the explanation. The sign is in Glen Esk Road, named by early settlers, Dr Stockwell and the Cowan family, for the Glen Esk in the Angus Glens in Scotland.