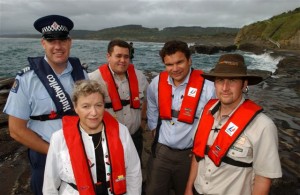 An evaluation of the three-year West Coast Rock Fishing Safety Pilot Project – a collaboration of Auckland Regional Council, Watersafe Auckland, Safe Waitakere and Surf Life Saving Northern Region – shows significant improvements in rock fishers understanding of the risks and behavioural change.
Over a three-year period rock fishing safety advisers, employed by the ARC, have been out on the West Coast rock fishing platforms talking about safety and particularly advising them to wear lifejackets. Fewer fishers are now never wearing lifejackets – 35% in 2010 compared with 72% in 2006, and 31% reports wearing them often/always as opposed to 4% in 2006.
Two-thirds of fishers consider their safety knowledge and behaviours had improved, Drawbacks to the effectiveness of the project were the transience of the population and their unfamiliarity with the Coast. 83% of rock fishers are male, 64% were Asian, and more than 36% were of recent residency.
The newly installed angel rings were given the thumbs up, 80% of fishers thought them essential .
The ARC has provided the budget for advisers to be appointed regularly each summer to talk to rock fishers.
ARC project sponsor Sandra Coney says the success of the project depended on collaboration by the various agencies: "Also critical has been the scientific approach, with Dr Kevin Moran of Auckland University evaluating project each year, using the same questionnaire." This has provided the evidence to continue the programme and to refine the approach. The endorsement from the fishers themselves, is the hallmark of success for the project."